We would like to introduce ourselves as manufacturers of all kinds of stainless steel kitchen equipment, steam equipment, steam boilers, and refrigeration units. We also specialize in LPG lines, steam lines, exhaust systems, and fresh air supply systems. With our rich experience in this profession, we have created a niche for ourselves in this competitive world of the food industry.
Our team of experts is constantly researching and developing new and innovative products to meet the evolving needs of our customers. We use high-quality materials and state-of-the-art technology in the production process to ensure that our products are durable and reliable.
Our customers can rely on us for timely delivery and excellent customer service. We offer flexible payment options and provide installation and maintenance services for our products.
We are committed to providing the best possible solutions for commercial kitchen equipment to our customers. Contact us today to learn more about our products and how we can help you streamline your kitchen operations.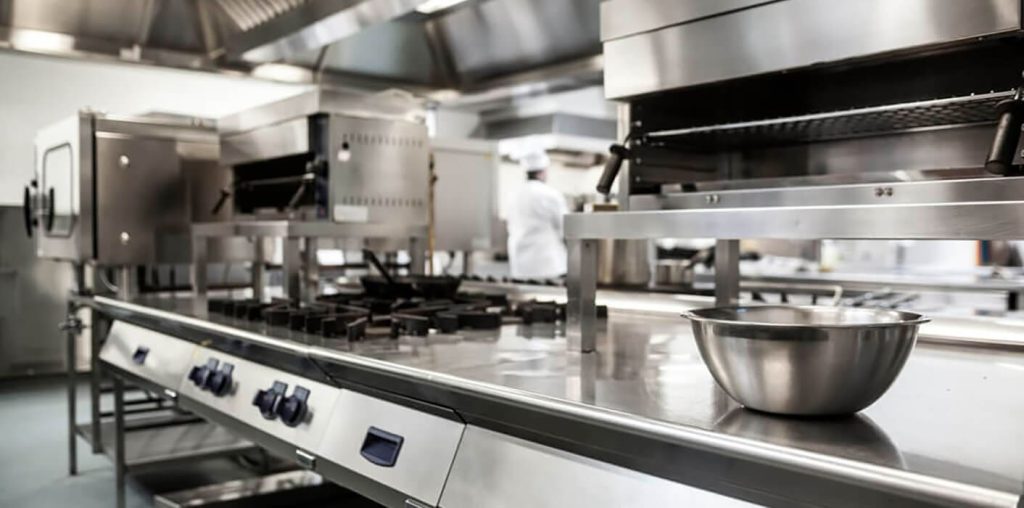 Commercial kitchen equipment manufacturer
Commercial kitchen equipment manufacturers are a vital component of the food service industry. These manufacturers design and produce a wide range of equipment and supplies that are essential for the day-to-day operations of commercial kitchens and restaurants.
One of the key benefits of working with a commercial kitchen equipment manufacturer is the quality of the equipment they produce. These manufacturers use high-quality materials and employ rigorous testing and quality control processes to ensure that their products are durable, efficient, and safe to use.
Commercial kitchen equipment manufacturers offer a wide range of products to meet the needs of different food service settings. This includes everything from cooking equipment like ranges, ovens, and grills, to refrigeration equipment like refrigerators, freezers, and coolers. They also produce dishwashing equipment, food preparation equipment, and storage solutions like shelves, racks, and carts.
In addition to their product offerings, commercial kitchen equipment manufacturers also provide valuable support services to their customers. This includes installation, maintenance, and repair services, as well as technical support and training for their products. This ensures that their customers can get the most out of their equipment and keep it in good working condition for years to come.
Commercial kitchen equipment manufacturers also play an important role in promoting sustainability and environmental responsibility in the food service industry. Many manufacturers are committed to using sustainable materials and processes in their production, as well as creating energy-efficient and eco-friendly equipment designs.
Overall, commercial kitchen equipment manufacturers are essential partners for any food service business looking to operate efficiently, effectively, and sustainably. With their high-quality products, valuable support services, and commitment to sustainability, they provide a valuable and necessary service to the food service industry.